Sneak peak into Do or Drink Cards
Are you wondering what kind of questions Do or Drink has? Click below for a sneak peak
Beautifully Crafted App
Still not Convinced?
Others loved the drinking game, check out what they said. These are straight from our play store and App Store!
We have a simple solution for playing a drinking game online. When you can't have a house party just have an online party, no one can say no to that! It is really easy to do you just need 2 things; full details in the link below
Tips For An Awesome House Party - Do or Drink Style
Best enjoyed with 3 friends and above. It could work with 2 but the more the merrier.
Could be played with friends or strangers. Great for getting to know new things about your current friends or for breaking the ice and getting to know new people
Always have your drinks of choice nearby. Why walk around trying to refill drinks when you could be playing DoD instead 😉
Be prepared for some drama. The app is designed to create fun drama, so be prepared for that!
With the above said don't forget to always have your camera ready. Chances are there will be moments you will want to record/take pics, be ready for that
How It all Started - From Decks of Cards to Drinking Game App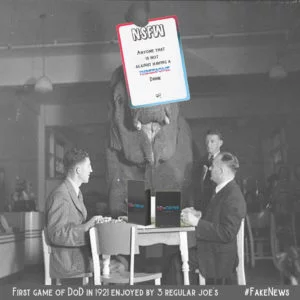 It all started back in 1921, times were simpler and elephants were common pets.
Do or Drink was pioneered by gentlemen with an adventurous spirit like no other, they were venturing onto unexplored territory, for never before was there a game to be played while drinking alcohol.
Alas, through their courage they built a drinking card game and it was first tested in their local pub by three regular joe's and their pet elephant. From that point forward, drinking was never to be the same again.
Do or Drink would eventually become an app as we know it today…
Do or Drink Drinking Game : App vs Traditional Cards
By now you are probably pretty happy to have stumbled upon this wondrous drinking game. You have your house party planned, friends invited and a potential drinking game to make your awesome party even funner. Well, we have even more good new for you.
Do or Drink is free to download and play, so you can instantly visit our App Store page, download it and see it for yourself! You don't have to worry about ordering a deck of cards and waiting for delivery. Heck, you even have to pay to get the deck of card; this is a no-brainer!
Another big bonus is new drinking cards and decks will constantly be added to the app, while a traditional deck of cards will stay the same the moment you have them, basically that means Repetitive.
You might be thinking, well sure you can add more content the app but we will probably have to pay for it. Yes but not exactly. Do or Drink app has a premium purchase bundle, which means that for less than $10 USD you will get all current and future decks. Isn't this just amazing! If you want though, you can spend 3 times that amount to get a deck of card that will always have the same cards.
There is one thing that is nice about a deck of card though. It is very fun to have the card laid out on the table and hold them in your hand. Don't forget that the app has something fun of it own as well. The cards have these really fun animations; different decks have their own personality and their animations. They are really cool, as I said before, you can check if out for yourself it is FREE!
A little bit more about the App
So what does this gorgeous party app have to offer:
Many different decks and many different cards in each deck:

Classic Deck, Punishment Deck, NSFW Deck, Bar Deck, Rule Deck, Would You Rather Deck, Truth or Drink Deck and other Decks with more to come..

Each deck has its own unique theme and animation on the cards
Obviously NO annoying ads that keep popping up
Plenty of fun for the group. The game will build up drama, help liven up a party and help you get to know new friends and old friends
A bunch of drinking cards with new cards being added